Anyone who has spent long hours working a scene will have experienced the joy of making do without such basic amenities as a toilet and hot drinks.
We expect our CSIs to do detailed and difficult work for twelve hours at a time with a packet of Wotsits for lunch and a Mars Bar for dinner. They'll eat whilst perched on a kit box, in a scene tent if they're lucky, the front of a combo van if they're not. It can be cold, uncomfortable and does nothing to support the wellbeing of people already having to deal with stressful and traumatic incidents. That's why we've taken such care and attention over creating the best forensic support vehicle.
If we want to change the way we care for our teams, we need to change the way we think about caring for our teams. For the first time our CSIs will have a proper base, with all the equipment and office functions they need to do the job, as well as facilities to make their workplace more comfortable.
We canvassed opinions from the team and drew up a list of wants and needs. We intended on deciding whether each item on the list was a 'must have' or a 'nice to have', but they all turned out to be 'must haves'. Everyone agreed that a toilet was an absolute priority. No-one should be forced to make do for such a basis need – it's nasty and demeaning – so I'm very proud that we've managed to fit one, alongside all the other essential kit.
"The van provides the fundamental needs of comfort and privacy direct to the scene. This makes such a huge difference it's hard to overestimate. It removes the anxiety of where and when we get a comfort break, it unfreezes cold fingers, it charges laptops and phones, it physically screens us from the Press and separates us from the grimness of the scene. It's an oasis of order, comfort and calm amongst the chaos."
The van also has storage for food and drink, which we'll keep stocked when the vehicle is deployed, as well as a hot water boiler, sink and microwave. The Lavazza coffee machine is a luxury, but one I paid for out of my own pocket. We shouldn't force people to drink poor quality coffee but I don't expect the public to subsidise our supply! The small things matter too, so there are toothbrushes, deodorants and spare uniform in every size.
Image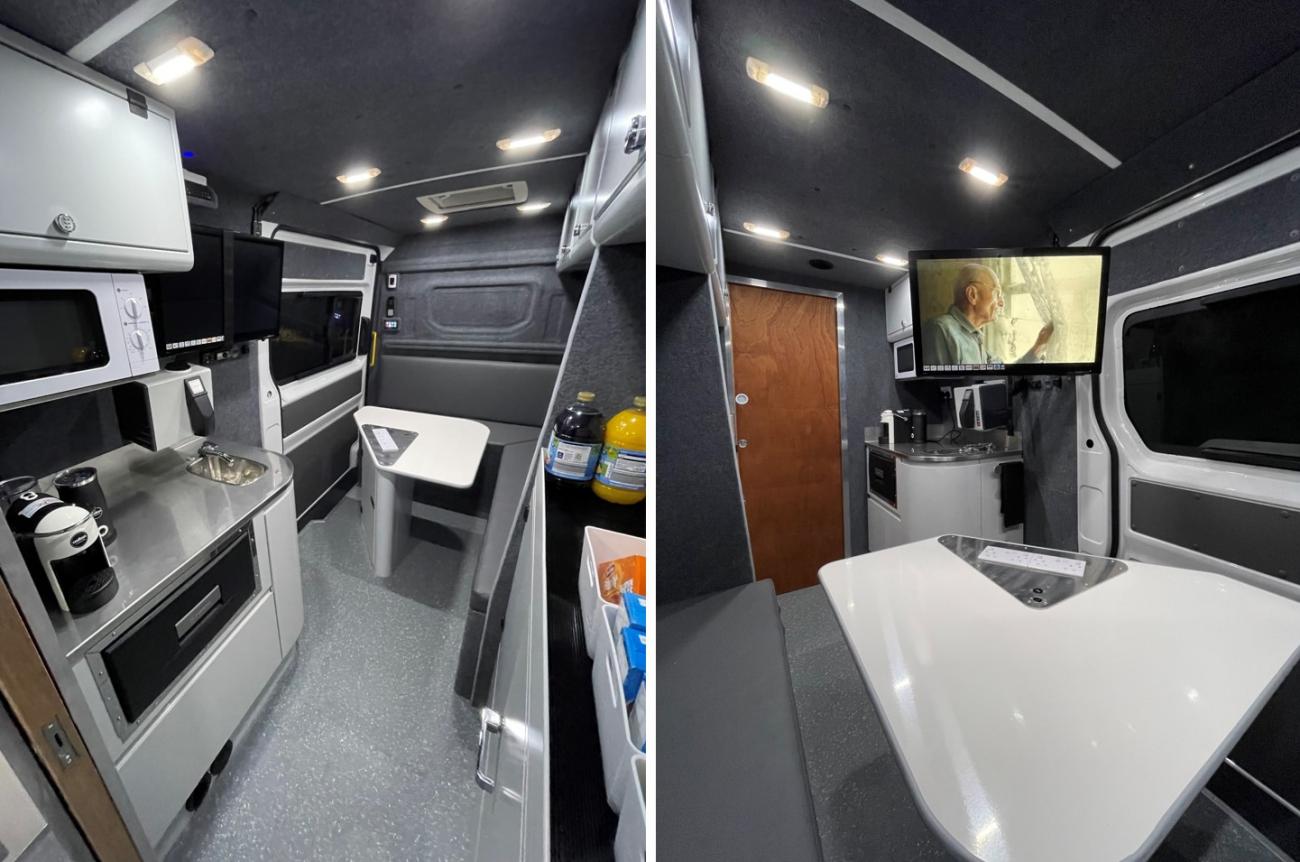 "I was able to sit inside the FSV, in the warmth, with the DI, SIO and RFC and view and discuss the scene images."
Wellbeing of our Emergency Service colleagues has never been higher on the agenda. Over recent years, individual Forces, the College and the FCN have all proposed and made changes that spotlight the stresses, challenges and trauma that our teams face regularly. There's lots more to do and we're still some way from the finish line, but I couldn't have made the case for this van ten years ago and expected such a positive response.
"I don't quite know how we've ever coped without it"
In Part Two, Ryan talks about the commissioning and procurement process. Stay tuned!
If you want to know more about the van itself, get in touch with Ryan on Twitter @DP_RyanHowell, LinkedIn or email ryan.howell@dorset.pnn.police.uk
If you want to ask procurement specific questions, then Sarah Keeping will be more than happy to assist Sarah.Keeping@devonandcornwall.pnn.police.uk
If you want to speak with Julian at Wilcox and King (who built the van to our spec) then he's on info@wakeltd.co.uk and his website is www.wakeltd.co.uk