Police forces have long known that forensics is vital to investigations, but its impact has never been quantified – until now. What really is the impact of forensics on criminal justice? The Home Office's Marie Barrett is on a mission to answer that question.
Image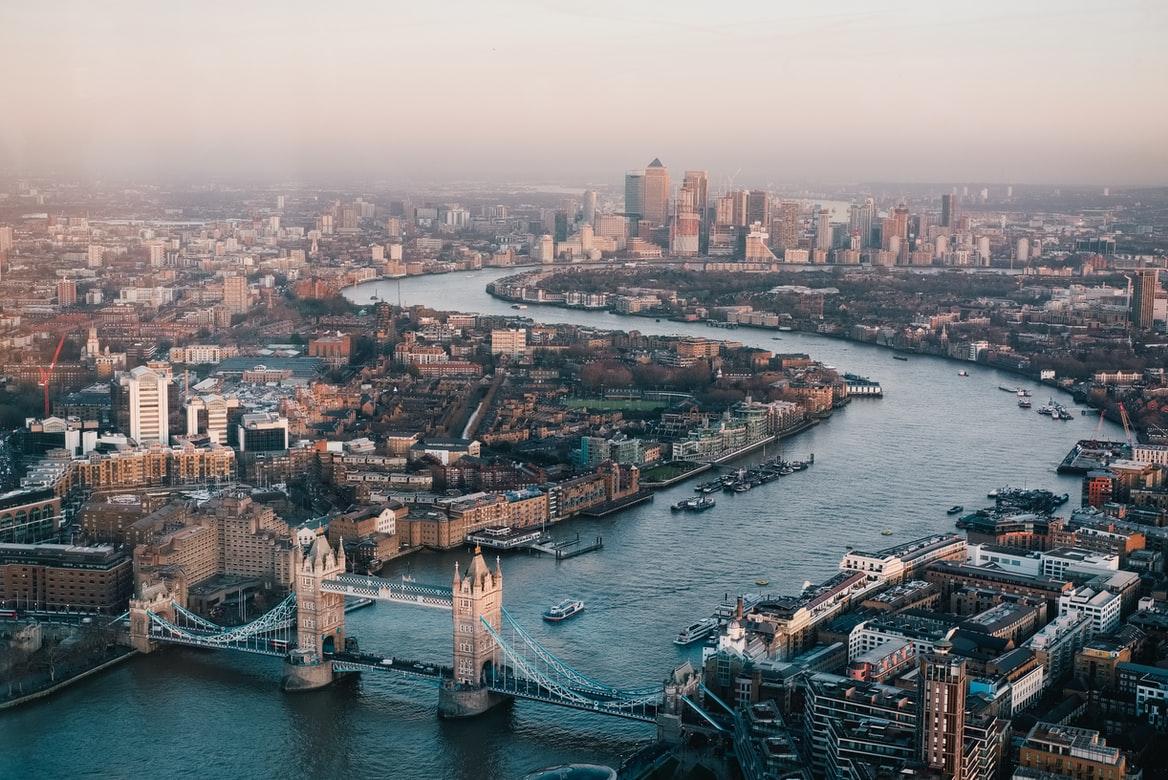 Why measure?
Over recent years there has been growing pressure to understand the true impact of forensics on investigations and criminal justice. The Home Office, NPCC and APCC have all called for a system of ongoing measurement of forensic impact.
The benefits of this approach are easy to understand. Having a new measurement model – especially one that talks the language of Ministers and Chief Officers – could help senior leaders make investment decisions, seize new opportunities and drive improvements. Actually creating and embedding that model is the hard part.
Marie explains:
"Anecdotally we think forensics is beneficial to the criminal justice system, but we need an ongoing system of measurement to really understand how.

"The Home Office initiated the project to develop an approach to measuring forensic impact to inform local and national forensic strategy and investment and to drive performance improvement."
One of the main barriers to measuring forensics is complexity: there are many crime types, many forensic disciplines, and many forces have different processes. Previous attempts to analyse forensic effectiveness have focused on final criminal justice outcomes. But the new model's approach measures much earlier in the life of a case and using three types of impact metric: effectiveness, timeliness and cost benefit.
"The principle I developed was that it might be more meaningful to target different 'impact points' along an investigative and court process, like establishing if a crime is committed, generating lines of enquiry, linking scenes of crime and so on to truly understand impact and value in a much broader sense," Marie says.

"We wanted to test the viability of this idea, and especially to understand if we could find the data needed to measure those impacts so we worked with forces and academics on some individual impact studies to see what was possible."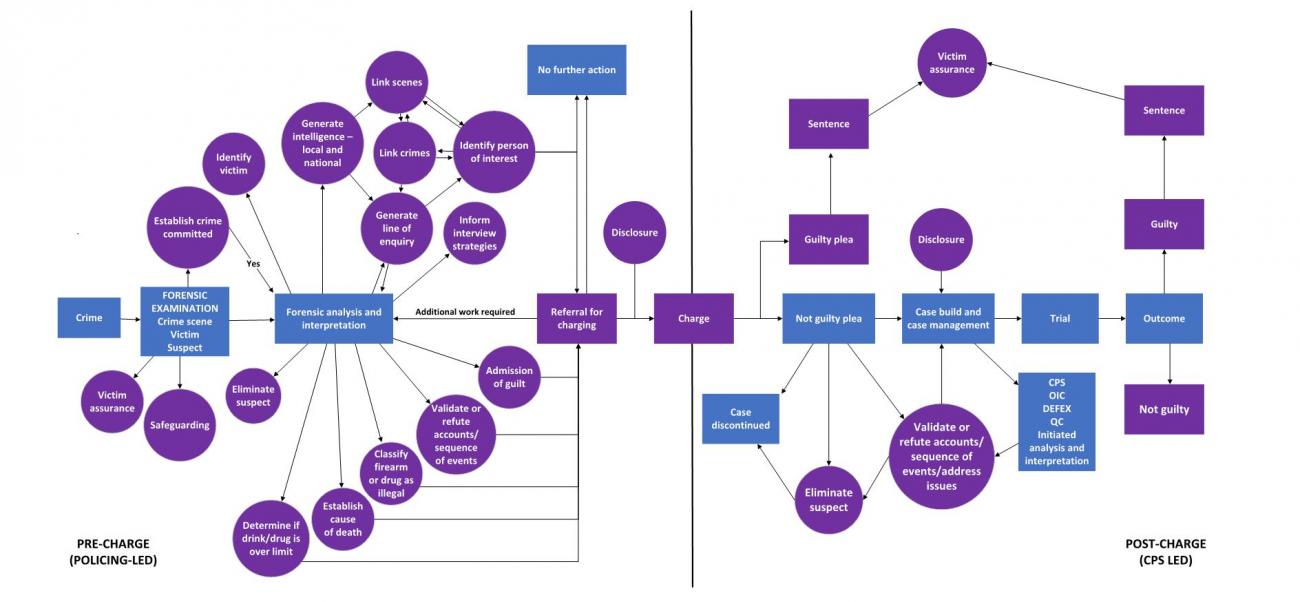 Crucially, the metrics developed by the project reflect real-world forensic science impacts in a language that is important and understandable across the CJS, including to senior decision makers such as Ministers and Chief Officers
Studies so far
Since its initiation in 2020, the project has already successfully collected this type of data through six proof of concept studies with forces and academia. These wide-ranging studies looked at many different forensic disciplines and crime types, including: the impact of digital forensics on RASSO investigations in Hampshire Police, the impact of DNA profiling on burglary investigation in the Met, and the impact of all forensic science on homicide investigations across four forces.
There is also an in-depth study published in partnership with Staffordshire Police and Staffordshire University measure the impact of at-scene digital forensics triage on child sexual exploitation cases in Operation Safenet. Read the report here on Knowledge Hub.
The data is striking. Across all six studies, forensics was found to contribute beyond those final CJS outcomes, showing how vital it is to the investigative process.
Interestingly, the impact varies depending on disciplines and crime types. Let's take a closer look into one area.
Hampshire case study: digital forensics and RASSO
One study assessed the impact of digital forensics on the investigation of rape and serious sexual offences (RASSO) cases in Hampshire Police. The project collected data on 93 cases and a total of 906 offences, with 1,115 instances of potential impact across 12 impact points.
Marie explains:
"We studied six months of submissions to the digital forensic unit for RASSO cases and tracked how digital forensics was able to contribute.

"We wanted to measure how often and how quickly, or slowly, digital forensics was able to impact on these investigations."
What the study found was that DF was a vital tool for many impact points but especially generating lines of enquiry, informing interview strategies and validating or refuting accounts of events.
"When we showed those three top areas to police officers and investigators, they utterly resonated. This really rung bells for them, as they knew these were core investigative tools and they couldn't do the job without them. Now we had quantitative evidence to support that assumption," Marie adds.
"Our approach generated a richer picture of impact than looking solely at final criminal justice outcomes – many of which were still not finalised."
Image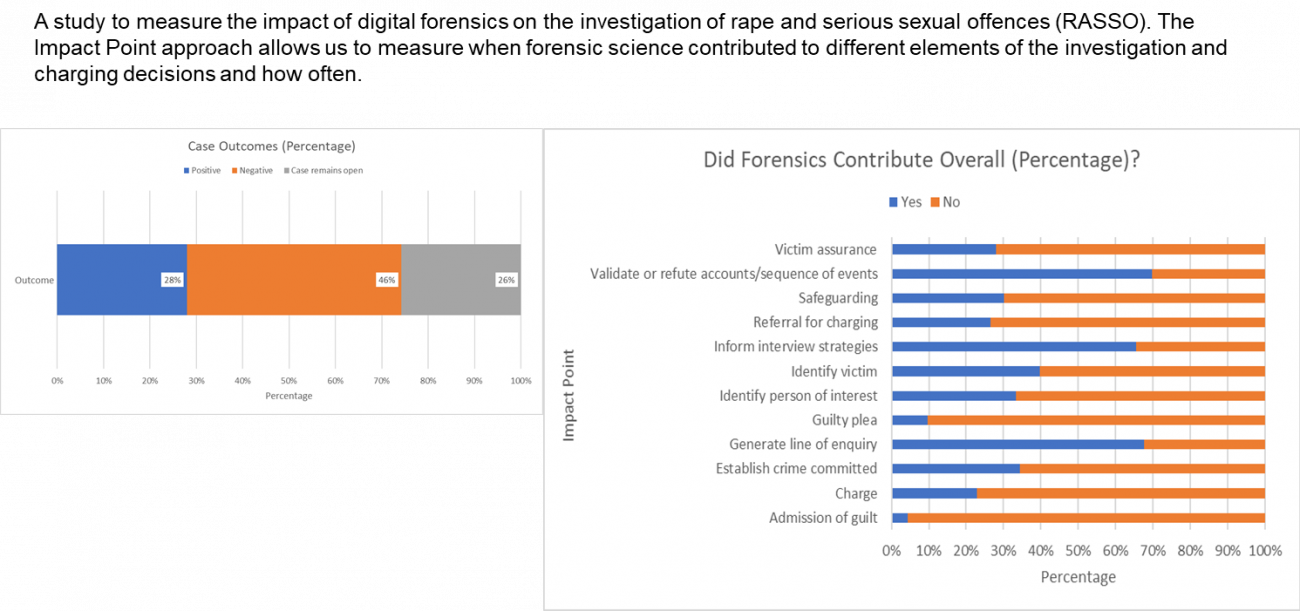 Perhaps even more interesting for police investigators and senior officers is the 'exclusive contribution' of forensics in cases. By collecting information on other "non-forensic" factors the study could also see the investigations in which forensics was the only factor against a given impact point – in this study it was up to 1 in 4 cases.
Image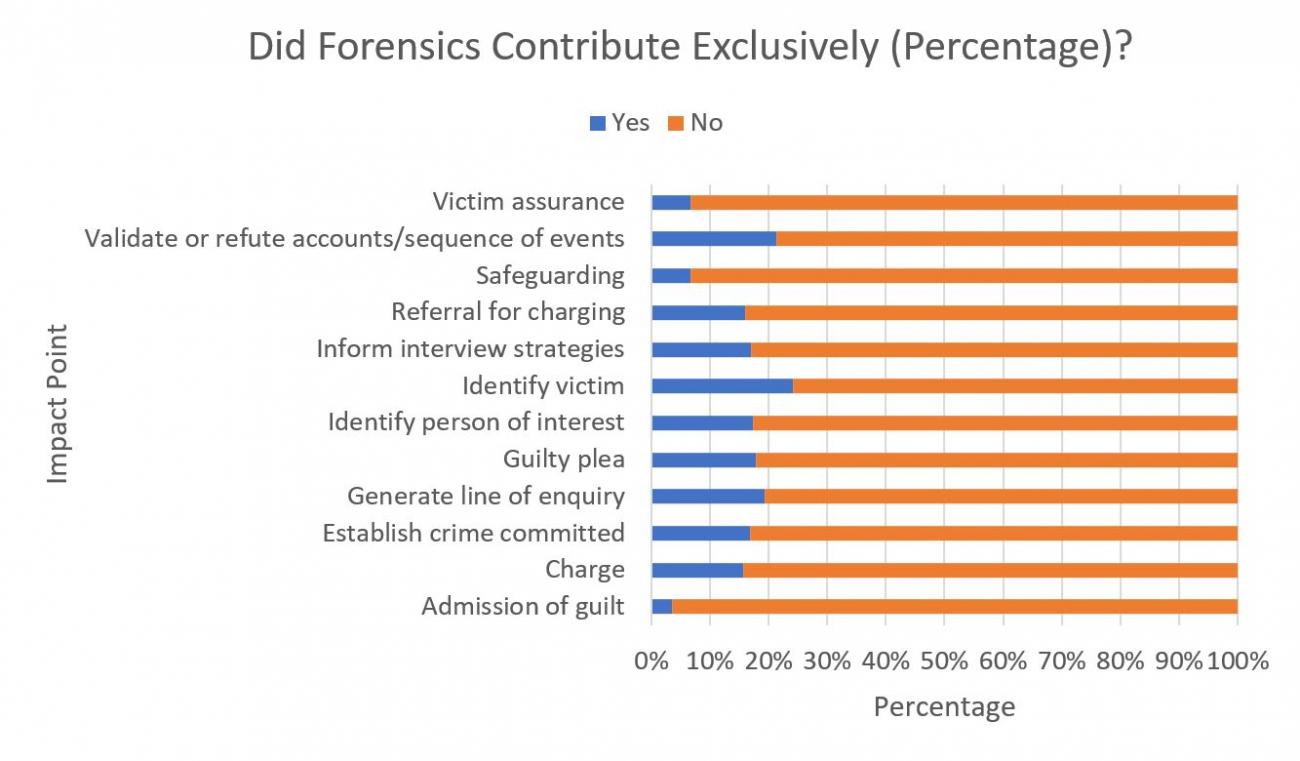 What next?
The studies completed so far are only the start, and Marie's model has exciting potential for many different crime types and forensic disciplines.
Among the next steps in phase two are plans to provide a suite of documents to forces enabling them to replicate these types of studies, as well as viability studies being undertaken to explore automation of the data capture and analysis.
Marie summarises:
"We think this offers an informative way of measuring forensic impact and we hope it will be embraced by forces and academics to create an evidence base for an improved understanding of that impact.

"We hope that policing will take on the baton from phase one and start looking at the priority areas it wants to apply this approach to. We will continue to work to refine and automate the approach but, in the meantime, it already offers an opportunity to study what works in forensics. You could use it to see what impact different submission policies or scene attendance plans can have on investigations. Alternatively, you may want to measure the effectiveness of a new training programme, measuring forensic impact before and after it has been implemented.

"I hope that this gains traction among forces. What I've tried to do so far is give people good examples to see what's in it for them. We've created the model and proved it with various examples. I'd welcome forces coming to me now and saying: 'What we need to understand is the impact of this, help me measure it.'"
Watch: Marie presents at FCN Research Festival
Marie Barrett presented on this study alongside representatives of Staffs Police on their DF triage study, at the FCN Research Festival in September 2021. Watch the recording and view the presentation here.
Read the full Home Office report on the impact of forensics on criminal justice on Knowledge Hub here.