It's a show that's gripped the UK in 2021, with nine million viewers so far of Forensics: The Real CSI on BBC Two. We caught up with the forensic services team at West Midlands Police to find out how they're helping raise the profile of forensics in policing and the public, and bringing the mental health of practitioners to the fore.
Following a first series with Northumbria Police, the documentary's second series aims to "follow serious crime investigations in real time, revealing the crucial role cutting-edge forensic science now plays in bringing criminals to justice".
Raising the profile of forensics
Camera crews and TV documentaries are nothing new to policing, but for Michelle Painter, Assistant Director of Forensics, who is now in her 30th year with West Mids, it offered an excellent opportunity to shine a spotlight on what her teams do. With three of six episodes now aired, the show's popularity has helped demystify the world of forensics not just for the general public but also for police officers and staff.
"I've been contacted by so many people working inside policing and even inside our organisation saying, 'I didn't know how much different work was done," says Michelle. "The production company were really clear they saw forensic practitioners as the unsung heroes, and that it was forensics and science they wanted to focus on. There is also the ambition within West Midlands Police to be open and transparent and show the public what we do and how we do it."
Realising the reality of a job in forensics may seem a minor thing, but as Michelle explains it has a major impact on morale for forensic practitioners:
"It's so important that we value operational police staff and give them the appropriate reward and recognition. Sometimes it feels like forensics can be forgotten, but people who have watched the show tell me they'll never forget our contribution again."
It's a view shared by one of the unsung heroes featured in the series. Jo Ward is a Crime Scene Coordinator with 23 years history in West Midlands Police, 21 of those in forensics. For Jo, the show was a chance to share her work with family, friends and the public.
"There's not a huge amount of your work you can share with your family. They know I attend crime scenes and wear white suits, so it was nice that we could watch it together and for them to see exactly what I do," Jo says.

"I've had so many people tell me: 'I thought I knew what you did, but I didn't really'. It's great for the public to see the amount of hours that go into investigations. We're at the scene, in the thick of it, which is unpleasant, and we're bringing all the evidence out that's helping to get that guilty verdict. I'm really pleased that it's shown what a crucial role we play within forensics in an investigation."
Image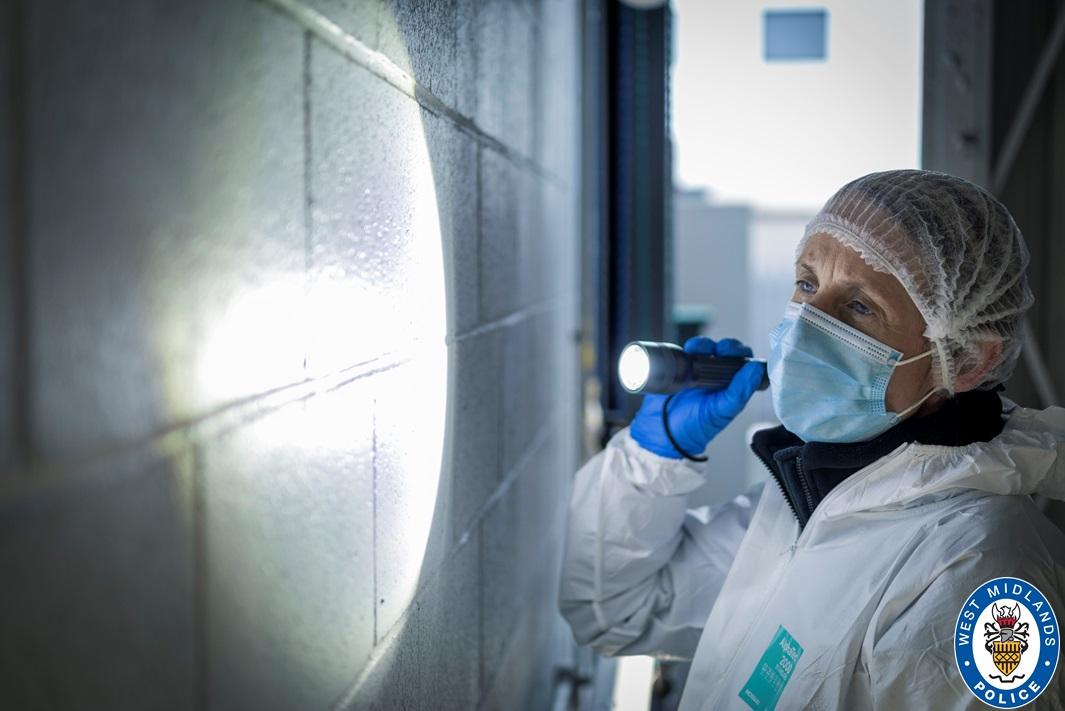 Wellbeing and mental health
The show's honest and respectful depiction of murder scenes and investigations has also acted as a catalyst for another topic of conversation: the wellbeing of CSIs and other forensic science practitioners.
"We see things no human should ever have to see," Jo says. "I want to get across the mental health aspect, the fact that we're only human and we can be affected sometimes. I've been open about my post-traumatic stress from day one, what I was going through, and talking about it helped me get through a really dark time in my life. But it could happen to anyone. I've had really good feedback from people in policing saying 'thank you' for taking the stigma away."
It was 14 years ago when arriving home from a crime scene that Jo started feeling sick, couldn't eat and was awake all night with flashbacks. What followed over the next few months were episodes of major panic and fear.
"My body shut down," Jo says candidly. "I remember it like it was yesterday. I went into major panic not knowing what was happening to me, because I'd never experienced it before. I thought I was going mad. I couldn't grasp what was happening and my mind took over. It's frightening how it completely changes your personality overnight."
It was a long recovery, aided by the right support and medication, and ultimately driven by Jo's willingness to seek help – as well as a large bank of determination and self-awareness. What advice does she give to others who find themselves in a similar situation?
"It's okay to be not okay," she says. "There's going to be times where things do affect you, and it's normal to feel that way. Even since that, I attended a horrific road traffic collision where several people had been thrown from their vehicles. On the evening at home I started to feel sick and panicky thinking about the scene.  I managed to calm myself down and reassure myself that this was a normal reaction to seeing such an horrendous thing, I have learned how to cope with it. For me, the best decision I made was not going off sick, because I knew if I did I'd never go back. I always try to be positive."
Organisational support for practitioners
Managing your own wellbeing is one thing, but as the conversation on mental health grows police forces are increasingly seeking ways to support their staff through a range of structured and informal routes.
There is a relatively good body of research and resources available for police officers, such as a Police Federation survey of 17,000 officers which highlighted that 39% had sought help with mental health issues and two-thirds who still went to work despite poor mental wellbeing. But Assistant Director Michelle suggests that the experiences of CSIs and forensic scientists require specific support.
"I'm having really positive conversations with colleagues in People and Organisational Development to help them understand what it's like a forensic practitioner," she says. "The things we see working in forensics, it changes how you think and how you see the world. It's taken the show for people to understand what we mean. Forensics is a unique case and needs a different support to everyone else.
"If you're not having a great day, you can't hide behind your desk, you've still got to go out there and knock on a victim's door and manage their emotion. You can be shattered after it – it's not just the trauma, it's the emotion.
With forensics back on the radar, what can forces do to support practitioners? "I don't think there is any one piece of support that we need," Michelle says. Instead, she is exploring a whole host of different options for practitioners, from debriefs at scenes similar to those used by ambulance services, to mental health first aid courses to enable peer-to-peer support.
Working closely with the force's Wellbeing Manager and two in-house psychologists, and using the latest academic research on desensitisation, she is now taking forward that package of tailored support. Going forwards, Michelle says she intends to "keep pushing our value in the organisation" to secure the right support, equipment and budget.
West Midlands Police is recruiting another 33 staff into forensics in the coming months bringing its team to 280 people, and it will also be providing forensic services to Warwickshire Police under a new deal. For Michelle, support for staff goes hand-in-hand with recognising their highly specialised skills. "Someone can leave the organisation within 28 days and it can take years to replace those skills," she says.
The last word
One thing is clear, the conversation on wellbeing must go on and progress must be made. Michelle concludes:
"People are so grateful that Jo and Paul Tebbutt [episode two] talked about mental health, especially when talking about child victims. People say 'I know that feeling, I can relate to that'. The more we talk about mental health, the better. We see some awful stuff, the very worst of people, and we've got to make it okay to talk about that."
About this article
If you're affected by any of the issues mentioned in this article, please consider speaking with a colleague or manager, or reach out to Oscar Kilo, the home of the national police wellbeing service.
Force Focus is a series of in-depth articles with people across the FCN network, sharing insights and ideas from one force to others. If you'd like to share a story from your organisation for a future Force Focus, please contact us.
FCN is exploring ways to support the network's wellbeing through our Workforce Strategy, which starts with a forum meeting in late April 2021.
You can also catch up with Forensics: The Real CSI on BBC Two on iPlayer.