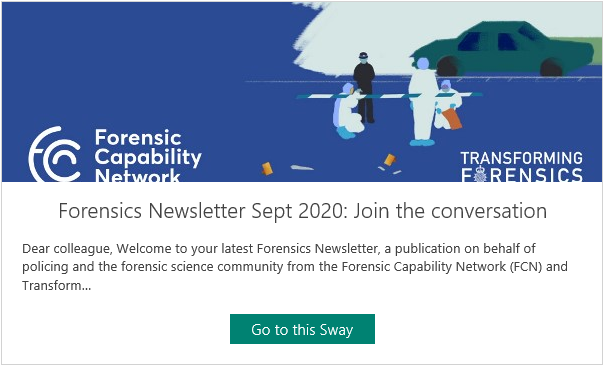 The latest Forensics Newsletter published by the Forensic Capability Network (FCN) is now available, with updates for policing and the forensic science community.
In the September 2020 edition, T/ACC Mark Callaghan from FCN's host force Dorset Police invites readers to 'join the conversation' – both through engaging with FCN's team directly to discuss how we can support you, and by attending our series of virtual events. 
Also featuring in this edition are Dorset Police Chief Constable James Vaughan, Derbyshire Constabulary Chief Constable Rachel Swann, Forensic Science Regulator Dr Gillian Tully, and FCN's Science Director Vickie Burgin, Quality Director Debbie Pendry and R&D Manager Carolyn Lovell.
There are also updates on new R&D funding to tackle drug violence and the publication of the Digital Forensic Science Strategy and national Streamlined Forensic Reporting guidelines, along with important updates on the FCN national collaboration agreement.
FCN welcomes contributions for the next edition from police forces, PCCs, academia, suppliers and others working in the forensic science community.